1. Branding Opportunities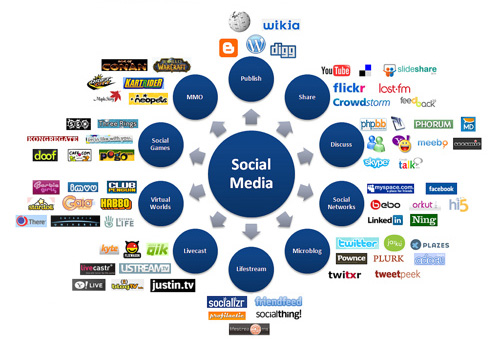 Initially it was important for companies to make sure they had all the various domain names that relate to their brand (.com, .net. .org, etc.), it is now becoming important for companies to make sure they secure their brand on social media…
With all the social networking sites there are now, the opportunity for branding is evident. Sure there is the thought of how web sites can draw traffic from social networking sites, even sell products or services but in addition to that, what about protecting your brand before someone else beats you to it? This is especially important with respect to user names and unique URLs.
Typical with most social media sites, once you create a profile, you have a unique URL where you can access that profile. That URL, if you set it up correctly, will include your brand name (i.e. www.youtube.com/thehockeyshopbc, www.twitter.com/thehockeyshopbc, etc.). The brand name is also used in the title tag of your profile. Why is this important? Having a number of profiles spread out among various social media sites may help you to have better control over the first three pages of search results for your unique brand name. It also may help users of specific social media sites to find your company if they are actually looking for your brand. Finally, you keep competitors from sitting on your brand and/or people that may misrepresent your brand.
2. Build Link Popularity
Websites essentially need three things if they are to experience good visibility in the search engines – 1.) good content, 2.) good SEO and 3.) good links. There are two ways to get links from other sites – naturally or pay (or beg) for them. Buying them is the easiest but due to Google's recent declaration of war on paid links, they can fall prey to their big guns. So, natural is and always has been the best.
3. Attracting Quality Traffic
Depending on the industry you are in, social media and networking sites can send quality traffic to your site. In one example, music and entertainment entities are successfully using MySpace to attract its millions of users. How many times have you seen movie URLs that are located on the myspace.com domain? Now if you manufacture and sell contemporary furniture, then you may not benefit much from MySpace traffic seeing its demographic is mostly comprised of youth but you may draw traffic from a photo sharing site like Flickr.
4. Interact with the Public
The reason why it is called "social" is because it allows web users to socialize or interact with each other. Having the ability to interact with consumers is not just about dealing with bad mojo but also taking advantage of social media to bring further attention to products, services, company news or even put a personal face on the company.
5. Networking Opportunities
Many social networking mediums offer opportunities to join specific groups of interest where you can then interact with like-minded people. Facebook is a great example of this – not only can you join groups, you can create new ones, add events and even build interactive applications that run within the Facebook environment, it becomes very easy to target specific groups of people.
Many of the social networking sites such as Facebook, Twitter, Youtube, LinkedIn and others, allow you to develop numerous relationships which are not only beneficial in day to day operations, but especially rewarding when attending industry conferences. The conference becomes more like a family reunion than a boring, uninvolved trade show.
How To Get Started
Don't be afraid of social media but rather embrace it. In a lot of ways, it has once again allowed small businesses to compete with the giants. Therefore rather than ignore it (it is not going away), be creative as to how your business might benefit from it.
It's easy, anyone can do it. Let us get you started – request more information.
Recent Examples
We have recently got The Hockey Shop up and running with their own blog, e-commerce store, twitter account, facebook fan page, and youtube channel. Take a look!
www.facebook.com/thehockeyshop
www.twitter.com/thehockeyshopbc
www.youtube.com/thehockeyshopbc