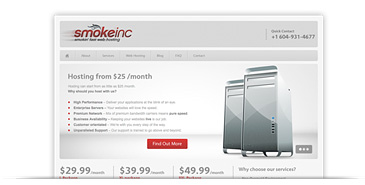 Smoke Inc. is a Canadian business founded in April 2010.
Smoke Inc. specialises in Premium Web Hosting services, such as Shared Hosting, Virtual Hosting and Dedicated Hosting services as well as reselling SSL Certificates and Domain Name registrations. They deliver enterprise level solutions at affordable price to suit the needs of businesses as well as individuals around the globe.
Panthermedia partnered with Smoke Inc. in April to help give them the best online presence possible. Being a partner with Smoke Inc. allows Panthermedia to offer clients very competitive hosting rates and excellent customer service.
Visit Live Site: www.smokeinc.com