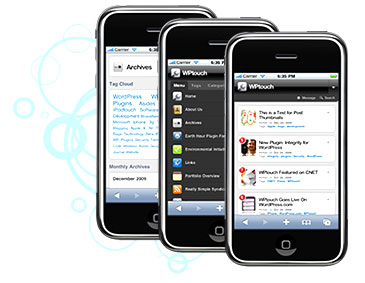 We are starting to develop mobile versions of websites, we currently have a couple in the works and will be releasing them later in June. We are implementing a customized mobile theme for wordpress sites that is modelled after Apple's app store design specs, it loads lightning fast and shows your content beautifully, without interfering with your regular site theme. The mobile theme transforms your WordPress blog into a web-application experience when viewed from an iPhoneTM, iPod touchTM, AndroidTM, or BlackBerry StormTM touch mobile device.
For non-wordpress sites we are developing mini-sites that focus on specific information about your company that visitors would be looking for on the go. Contact info, location, maps that sync to your phone and brief overview of services and products.
Stay tuned for our future releases and sign up for our newsletter below.